media hub
Presentation of texts, pictures and videos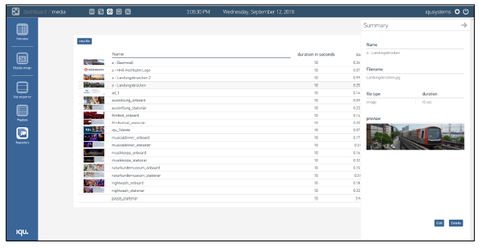 The media hub is the latest module in the central system of iqu Systems. It can be used to display texts and full-format images (jpeg, png and other formats) on the displays. Also fullformat videos e.g. in mp4 format can be visualized on the TFT monitors.
The user creates playlists for texts, pictures and videos, for example for advertising, and is able to assign them to individual displays or display groups.
To do this, the user uploads new files as images or videos to the media hub library and gets a corresponding overview of the files. Details about each element in the library and a corresponding preview are essential comfort functions of the media hub.
Once the playlists have been created from the individual image and video content, the user can combine these playlists into a daily schedule and assign them to different days of the week within a calendar. This means that stationary and on-board TFT monitors can be supplied with high-quality content in no time at all.