iqu/hub administration
Monitoring and easy user and tenant management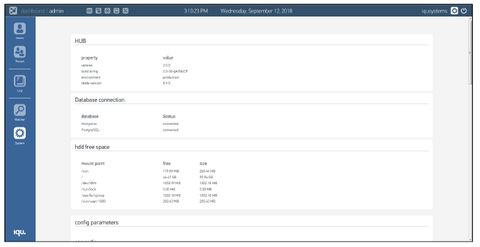 The iqu/hub administration is the central interface for monitoring the operation and assigning users to tenants and user groups. There are no restrictions on the number of tenants and the number of user groups.
In addition to setting up and managing users and tenants, the iqu/hub administration also maintains a list of system errors in so-called log files. These error lists can be downloaded as text or CSV files and later evaluated using Excel, for example.
The so-called watcher monitors all processes of the running systems and interfaces. Errors are automatically detected and, if necessary, reported to selected users.
The system overview shows concise system information about the iqu/hub, the connection to the database, and the drive space.