info hub
Dispositions and special texts in just a few steps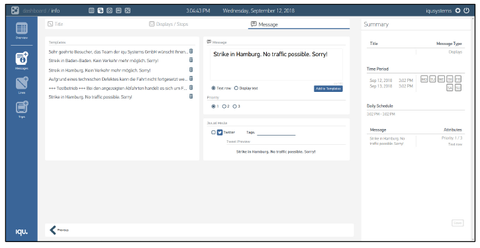 One of the essential tasks of a dispatcher in the control center is in case of disruptions or special incidents to inform the passengers. For quick and easy operation, there is the info hub. It offers the following features:
Overview of all existing dispositive information measures

Creation of new dispositive measures with just a few mouse clicks

Fast initialization of existing, more frequently occurring measures

Logical selection of stops, displays, routes and dates
Like any of the central modules, the info hub is browser-based and can be operated from anywhere. The surfaces are designed to be consistent, intuitive to use and respond to the input very quickly.